Lady Banks' Commonplace Book is a blog for people interested in Southern literature, sponsored by booksellers who are members of the Southern Independent Booksellers Alliance (SIBA) and featuring the latest literary news and events around the South from Her Ladyship, the Editor.
Blog Archive | Newsletter | Newsletter Archive
---
Why are author events so popular? Authors aren't performers by nature, sometimes just the opposite. And a book, like any work of art should stand or fall on its own merits, shouldn't it?
Well, yes, but.
Her ladyship, the editor, likes author events because she likes to hear about the story behind the story -- why a writer decided to write it, that strange and magical moment when they realized that an idea could become a story, the strange, winding path it took from inside the writer's head to in the pages of the book she is holding.
It is a creative process that never fails to fascinate. And often her ladyship finds that hearing a writer talk about creating the story deepens and enhances what she finds when she reads it.
Such it was when her ladyship was introduced to Shawn Cosby, author of the beautifully gritty noir novel, Blacktop Wasteland.
It is an oddity of the pandemic that her ladyship has attended more author events via video from her living room couch in the past three months than she has been able to attend in person in the last three years. Cosby's event was one of her favorites: funny, smart, compassionate, and very down to earth, it made her almost sorry she had already read the book.
Read independently, support black-owned bookstores, and shop local now so you can shop local later.
Details

Published: 17 August 2020

17 August 2020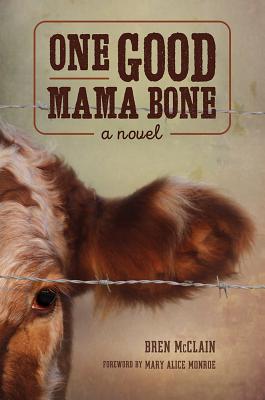 Southern readers lost another friend last week. Mama Red, the elderly mother cow who was the inspiration and, perhaps it is not too much to say, spiritual center of One Good Mama Bone, the debut novel by South Carolina author Bren McClain, passed away last week. She was 29. Which is about 21 years older than most cows ever live.
McClain, who is from a cattle ranching family, bought Mama Red from her father in 2008 to save her from being slaughtered--the fate most cows after they can no longer bear young. It was an early morning encounter with Mama Red, standing in the corner of her pen, bellowing for her calf in a field and several fences away, that became the central theme of the novel McClain was trying to write:
"I would not see it yet, but she and the others had pushed the end post forward with such force that it angled out as if it was an arm waving at something familiar. And it was. Their babies. They were some thirty yards away, at the other end of a grassy lane. Like their mamas, they, too, stood huddled. They, too, sent forth sounds. Deep ones. Long ones."
One Good Mama Bone was published in 2017 featuring Mama Red at the center of the story and immediately became a Southern favorite. McClain, who never met a book club she didn't like, did approximately 187 book signing events at local bookstores within the space of 90 days. At least, that is what it seemed like to those following her Facebook and Instagram posts. And everywhere she went readers came to know and love Mama Red. They sent her paintings and aprons and knitted things and wrote songs. Lately, they have been sending facemasks.
Mama Red became a kind of patron saint of Southern book clubs and a living symbol to readers of the beauty and power of motherhood. Reviewers sometimes described One Good Mama Bone as a celebration of the maternal instinct, but "a veneration" is what the author called it in an interview: " It's about an attitude of service—no, a heart of service—to someone else's needs, someone whose life you can make better, stronger." Bren McClain said that Mama Red was her link to the divine.
On July 22nd, that link was broken. As McClain wrote, "Mama Red's work on earth is done. She has returned to God."
Details

Published: 29 July 2020

29 July 2020
The South has lost one of its most beautiful voices. Brad Watson, the quietly loved writer of The Heaven of Mercury and Miss Jane, died suddenly of a heart attack last week, leaving behind two novels, two short stories collections, and many heart-broken people.
Silas House, in his recent talk in the Reader Meet Writer Author series, spoke of Watson, who had been a mentor of his:
"I just think Miss Jane is one of the most beautiful American novels to come out in a long time. Brad Watson was just a brilliant writer and such a witty, great, generous person, and I'm just so glad I got to work with him."
Alane Mason, his editor at W. W. Norton, called Watson a writer "who wrote with the most extraordinary and profound awareness of the beautiful and cursed human body and its frailties" and offered a list of what he called "unmatchable and in some cases nearly unmentionable" moments in his work, including:
*best ever, anywhere, description of a dog barking outside a door
*ditto of a dog watching a streetlight change
*most horrific Southern barbecue
*worst marital argument, in which a man shoots himself in the foot to end it.
Admit it. "Most horrific Southern barbecue" is worth reading everything Watson ever wrote just to find it.
Read independently, support black-owned bookstores, and shop local now so you can shop local later.
Details

Published: 14 July 2020

14 July 2020
Details

Published: 06 July 2020

06 July 2020
When Alissa Redmond, the relatively new owner of South Main Book Company in Salisbury, North Carolina, announced that she supported the removal of the Confederate monument "Fame" she found her bookstore added to a Facebook page called "Boycott Salisbury," and its list of businesses to boycott "into bankruptcy."
The page, since taken down, had some unintended consequences. The community rallied around the targeted businesses, and more than a few local businesses asked to be included on the list, stating their solidarity with their fellow entrepreneurs that had been singled out for boycotts. Redmond said the day "Boycott Salisbury" went live was the most profitable one the store had since she took over ownership thanks to the Salisbury citizens who came out to support their local shops and restaurants.
South Main Book Company was designated an essential business in the COVID-19 crisis for its role in providing educational supplies and books to the community. Among other things, Redmond regularly stocked up the Little Free Libraries at schools in the county, and worked with the school system to promote reading for students during the pandemic.
Now the store is looking to encourage the momentum created by the local controversy. "I'm doubling down and donating antiracist titles to the Little Free Libraries of Rowan County this summer," stated Redmond. The store has create a GoFundMe campaign and says for every $500 that is raised, South Main Book Company will donate 100 copies of antiracist books to the Little Free Libraries in the county. They have already ordered over 800 books, which include:
ANTIRACIST BABY by Ibram X. Kendi
THIS BOOK IS ANTIRACIST by Tiffany Jewell
GHOST BOYS by Jewell Parker Rhodes
THE POWER BOOK by Roxanne Gay et al
WHY WE CAN'T WAIT by Martin Luther King, Jr.
STAMPED: RACISM, ANTIRACISM, AND YOU
by Jason Reynolds and Ibram X. Kendi
WHO WAS ROSA PARKS by McDonough, Yona
Click here to donate to the campaign
Read independently, support black-owned bookstores, and shop local now so you can shop local later.
Details

Published: 22 June 2020

22 June 2020