TIRED OF AN
ALGORITHM
TELLING YOU WHAT TO
READ
?
Find hundreds of great books—from the hottest new releases and bestsellers to tried and true classics to rare gems—each hand-picked and hand-curated from Southern indie booksellers' websites, newsletters, emails, facebook and twitter posts and from the moments when they stop us in the street, push a book in our hands and say…"YOU'VE GOT TO READ THIS!"
RECENT RECOMMENDATIONS FROM SOUTHERN INDIES (PDF)
---
RECENT RECOMMENDATIONS FROM SOUTHERN INDIES...
I grew up knowing about the Great Mississippi Flood of 1927 but this book brings that time to life.
You can feel the unceasing rain and the mud and the growing fear of the flood coming their way. In this setting we meet a federal agent and a bootlegger brought together by an orphaned baby: a story of seemingly ordinary people who find hope and deliverance where they least expect it--in each other.

The Tilted World By Tom Franklin, Beth Ann Fennelly (William Morrow & Company), recommended by Rene at Quail Ridge Books, Raleigh NC.
Weisman wrote the wildly popular book The World Without Us, making the point that if we humans were to disappear, the world would do exuberantly well without us.
He wrote this book, Countdown, to ask if there's a way that the world could do exuberantly well with us. The book grew on me. After each story, I'd say, just one more...just one more. Now that I've finished the whole book, to my surprise I realize that I'm well-educated and hopeful about something I'd pretty much given up on. What a writer! I highly recommend this book.

Countdown: Our Last, Best Hope for a Future on Earth? by Alan Weisman (Little, Brown and Company), recommended by Sue at Quail Ridge Books, Raleigh NC.
In the pre-dawn of the French Revolution, Jean-Marie d'Aumont strives to wrest an ounce of immortality from every experience, taste, and sensation this world has to offer. From his rescue as a child at the foot of a dung heap to his appointment as Lord Master of the Menagerie, d'Aumont's life is "built almost entirely on a foundation of events colliding." Grimwood takes us on a tour through French history, from the death of the Sun King to the Revolution, but at its heart The Last Banquet is a beautiful--and, at times, macabre--meditation on the inexorable march of history and man's struggle to leave an indelible mark before his own time is spent.
The Last Banquet: A Novel, by Jonathan Grimwood ($26.95, Europa Editions), recommended by Amanda, Inkwood Books, Tampa, FL.
This is a fascinating tale of two women artists — writer Kathryn Callaghan in this century and painter Elizabeth Vigée-Le Brun who lived during the French Revolution. Vigée-Le Brun was a real-life portraitist who included Marie Antoinette among her subjects. Callaghan is 70 and brings the wisdom of her age to the story. Naslund offers a very perceptive look at two women as they progress through their art and their lives. A great read!
The Fountain of St. James Court; or, Portrait of the Artist as an Old Woman by Sena Jeter Naslund Stephanie Crowe, Page & Palette, Fairhope, AL.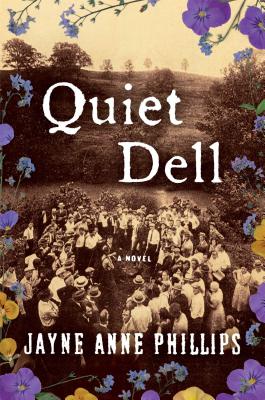 Award-winning author Phillips has been haunted by this story for 40 years. Her novel is based on the murder of the Chicago widow Asta Eicher and her three children in 1931. Lonely and out of money, Asta corresponds with a seemingly moneyed and well-mannered stranger named Harry Powers. She is lured to West Virginia, where, within a few days, the family is brutally murdered. Emily Thornhill is the Chicago journalist who becomes deeply involved in solving the sensational case, during which she falls into a passionate but problematic love affair. Phillips portrays the Eicher family so charmingly, especially the youngest child, Annabelle, that our horror and outrage are tenfold. This earns a place on the shelf with such classics as Night of the Hunter and In Cold Blood.
Quiet Dell by Jayne Anne Phillips ($28, Scribner) recommended by Lisa, Square Books, Oxford, MS.

Set on an island off the coast of NC, this novel explores the unexpected complications in family lives.
Brother Grace is 17 when he learns that he has a twin. In his efforts to locate him, Brother finds disturbing family secrets mixed in with local political power. Carmichael, a Carrboro resident, writes movingly of Brother's struggle to understand his real family and thus more about himself. For ages 12 and up.
Brother, Brother by Clay Carmichael (Roaring Brook Press), recommended by Carol, Quail Ridge Books, Raleigh NC.