Read This Now
What if there were an army of indie booksellers enthusiastically reading and reviewing practically every new book coming out in the next year, and what if the books they were the most excited about, the books they couldn't wait to push into their customers' hands with a breathless "You've GOT to read this!" (virtually or otherwise), the ones with all the nine- and ten-star ratings were carefully curated and collected in a handy list? Well, all we can say is...KEEP READING!
Browse the Read This Now Index!
---
RECENT RECOMMENDATIONS FROM SOUTHERN INDIES...
Perhaps because of his great failure to predict the 2008 crash, Alan Greenspan, former chair of the Federal Reserve Board, has turned his attention to the history of economic prediction and the future of economic forecasting. Comparing the old models of risk management with the new technologies of economic behavior, Greenspan rewrites the map of prediction.
The Map and the Territory: Risk, Human Nature, and the Future of Forecasting by Alan Greenspan (Penguin Press), recommended by The Country Bookshop, Southern Pines NC.

This collection is the first to present significant conversations in their entirety between JFK and his correspondents, including historical giants like Eleanor Roosevelt, Martin Luther King, Jr., Harry Truman and Nikita Khruschev as well as his school friends, Navy comrades and everyday Americans.
The book includes images from his presidential library and facsimiles of many letters!
The Letter of John F. Kennedy by John F. Kennedy, Martin W. Sandler (editor) ($30.00, Bloomsbury Publishing), recommended by Kimberly, The Country Bookshop, Southern Pines NC.
I loved this delightful book about a genetics researcher (he doesn't realize he has Asperger's syndrome) who decides to find himself the perfect wife. 
From the candidates that fill out the detailed applications to his best friend who is trying to map the world with his bedroom conquests (using the candidates his friend discards), this book is a wonderful story full of characters that you will adore.
The Rosie Project by Graeme Simsion (Simon & Schuster), recommended by The Country Bookshop Southern Pines NC.
Imagine living in the middle of the country and you decide to pick up your family (your husband and three children) and move to Vermont with no job in sight. 
Because you've always wanted to live in a beautiful place. 
And then imagine that although you're now living in the beautiful country, you haven't a clue because you're a city family.  This book will explain how it all settles out, with lots of laughter and tears along the way.  And you've got to read this book if for no other reason than to find out why they have so much mud in Vermont in the spring.
We met this fantastic and vibrant woman recently in New Orleans. I think that she might have the best laugh in the book world. Read her book... it will no doubt make you laugh as well.
Mud Season by Ellen Stimson (Countryman Press), recommended by The Country Bookshop, Southern Pines, NC.

Celia Rivenbark is the bestselling author of We're Just Like You, Only Prettier, and now writes a mildly profane etiquette manual for the modern age.
She addresses real life quandaries ranging from how to deal with braggy playground moms to correctly grieving the dearly departed. Good Manners have never been so wickedly funny!
Rude Bitches Make Me Tired by Celia Rivenbark (St. Martin's Griffin), recommended by The Country Bookshop Southern Pines NC.

Do not let anyone tell you that this is another book about Zelda Fitzgerald.
This book is deeper and better.
Yes, Zelda makes an appearance, several in fact, but she is a peripheral character. This book is really about Evalina, a young woman born to curious circumstances in New Orleans, and sent to a progressive mental institution in Asheville, North Carolina. This book is about the inhabitants of Evalina's life and about the music that connects us all.
Guests on Earth by Lee Smith (Algonquin Books of Chapel Hill), recommended by The Country Bookshop Southern Pines NC.
I grew up knowing about the Great Mississippi Flood of 1927 but this book brings that time to life.
You can feel the unceasing rain and the mud and the growing fear of the flood coming their way. In this setting we meet a federal agent and a bootlegger brought together by an orphaned baby: a story of seemingly ordinary people who find hope and deliverance where they least expect it--in each other.

The Tilted World By Tom Franklin, Beth Ann Fennelly (William Morrow & Company), recommended by Rene at Quail Ridge Books, Raleigh NC.
Weisman wrote the wildly popular book The World Without Us, making the point that if we humans were to disappear, the world would do exuberantly well without us.
He wrote this book, Countdown, to ask if there's a way that the world could do exuberantly well with us. The book grew on me. After each story, I'd say, just one more...just one more. Now that I've finished the whole book, to my surprise I realize that I'm well-educated and hopeful about something I'd pretty much given up on. What a writer! I highly recommend this book.

Countdown: Our Last, Best Hope for a Future on Earth? by Alan Weisman (Little, Brown and Company), recommended by Sue at Quail Ridge Books, Raleigh NC.
In the pre-dawn of the French Revolution, Jean-Marie d'Aumont strives to wrest an ounce of immortality from every experience, taste, and sensation this world has to offer. From his rescue as a child at the foot of a dung heap to his appointment as Lord Master of the Menagerie, d'Aumont's life is "built almost entirely on a foundation of events colliding." Grimwood takes us on a tour through French history, from the death of the Sun King to the Revolution, but at its heart The Last Banquet is a beautiful--and, at times, macabre--meditation on the inexorable march of history and man's struggle to leave an indelible mark before his own time is spent.
The Last Banquet: A Novel, by Jonathan Grimwood ($26.95, Europa Editions), recommended by Amanda, Inkwood Books, Tampa, FL.
This is a fascinating tale of two women artists — writer Kathryn Callaghan in this century and painter Elizabeth Vigée-Le Brun who lived during the French Revolution. Vigée-Le Brun was a real-life portraitist who included Marie Antoinette among her subjects. Callaghan is 70 and brings the wisdom of her age to the story. Naslund offers a very perceptive look at two women as they progress through their art and their lives. A great read!
The Fountain of St. James Court; or, Portrait of the Artist as an Old Woman by Sena Jeter Naslund Stephanie Crowe, Page & Palette, Fairhope, AL.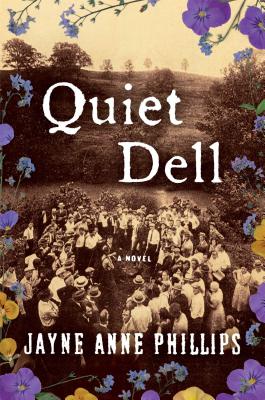 Award-winning author Phillips has been haunted by this story for 40 years. Her novel is based on the murder of the Chicago widow Asta Eicher and her three children in 1931. Lonely and out of money, Asta corresponds with a seemingly moneyed and well-mannered stranger named Harry Powers. She is lured to West Virginia, where, within a few days, the family is brutally murdered. Emily Thornhill is the Chicago journalist who becomes deeply involved in solving the sensational case, during which she falls into a passionate but problematic love affair. Phillips portrays the Eicher family so charmingly, especially the youngest child, Annabelle, that our horror and outrage are tenfold. This earns a place on the shelf with such classics as Night of the Hunter and In Cold Blood.
Quiet Dell by Jayne Anne Phillips ($28, Scribner) recommended by Lisa, Square Books, Oxford, MS.

Set on an island off the coast of NC, this novel explores the unexpected complications in family lives.
Brother Grace is 17 when he learns that he has a twin. In his efforts to locate him, Brother finds disturbing family secrets mixed in with local political power. Carmichael, a Carrboro resident, writes movingly of Brother's struggle to understand his real family and thus more about himself. For ages 12 and up.
Brother, Brother by Clay Carmichael (Roaring Brook Press), recommended by Carol, Quail Ridge Books, Raleigh NC.