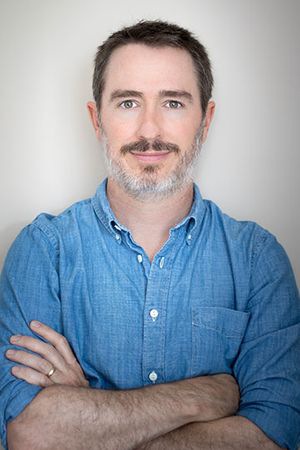 Wiley Cash, the New York Times bestselling author of A Land More Kind Than Home, This Dark Road to Mercy, and The Last Ballad, has been selected to receive the 2020 Conroy Legacy Award -- the "lifetime achievement award given by Southern independent booksellers in honor of the example set by the beloved Southern author Pat Conroy. The award recognizes writers "who have achieved a lasting impact on their literary community, demonstrated support for independent bookstores both in their own communities and in general, created written work that focuses significantly on their home place, and supported other writers, especially new and emerging writers."
Readers are, of course, familiar with Cash's well-loved novels set in Western North Carolina and Appalachia, A Land More Kind Than Home, This Dark Road to Mercy, and The Last Ballad. Wiley Cash has been a popular speaker at bookstores, libraries and community events throughout his home state, and generous with his time for both readers and writers.
Perhaps less well-known is that Cash is the creator of the Open Canon Book Club, which seeks to introduce readers to "voices and portrayals of the American experience they may not have otherwise encountered" and which is supported by independent bookstores in the South and nationwide. He is also a co-founder of The Land More Kind Appalachian Artists Residency, a week-long residency program for writers, visual artists, musicians, songwriters, and photographers who are either from Appalachia or devoted to creating art representative of the region.
"Pat [Conroy] was one of those successful writers who was also pushing others ahead of him," said Cash when he was told he would receive the award, "I've heard story after story from writers whose work he shouldered and shared with the world. He did that for me. We all need to do that for the writers who are coming behind us. He didn't pull the ladder up. He reached a hand down."
Of the role the Southern independent bookstore community has played in his career, Cash was emphatic: "It's only because the independent bookstores and booksellers embraced my debut that my books have had the success they've had. Indie bookstores put me on the literary map, and they've kept me there. Independent bookstores are the literary, social, cultural, intellectual, and ethical lifeblood of our communities. We go to indie stores to meet authors, discover books, discuss ideas, find community, exchange new ideas and challenge old ones."
Suzanne Lucey, co-owner of Page 158 Books in Wake Forest, NC says the regard goes both ways: "We had Wiley to our store and for each book sold he donated a dollar from his own pocket to send to the ACLU. Who does that?"
"He also has asked to do a writing class at our store," she added, "and applauded a Clay County, NC high school teacher for introducing Appalachian writers like Ron Rash and David Joy. He really is trying from the bottom up to make our state and country better."
In recognition of his commitment to the Southern literary community and the standard that Pat Conroy has set for all its members, the Southern Independent Booksellers Alliance will make a donation to the Pat Conroy Literary Center and to the UNC Asheville Foundation in the name of Wiley Cash.