Read This Now: The Index
What if there were an army of indie booksellers enthusiastically reading and reviewing practically every new book coming out in the next year, and what if the books they were the most excited about, the books they couldn't wait to push into their customers' hands with a breathless "You've GOT to read this!" (virtually or otherwise), the ones with all the nine- and ten-star ratings were carefully curated and collected in a handy list? Well, all we can say is...KEEP READING!
---
Surprise Me!
The is the best Savich and Sherlock novel I have read in recent memory. Savich and Sherlock face real perils and react as any person would, not only as FBI agents. With Sheriff Ty Christie as an incredibly strong and intuitive supporting character and another FBI agent the pace is fast and satisfying. Does a serial killer prowl the local area, is a business corrupt, how far will someone stray off the path for greed? All are asked and answered in the pages of this book.  The ending is a surprise and the different yet intersecting plot lines keep you glued to the pages. Even if you have never read Coulter's FBI series you will enjoy this book, and probably return for more.
Paradox by Catherine Coulter ($27.99*, Gallery Books), recommended by Fiction Addiction, Greenville, SC.
Southern indie booksellers are buzzing about: Big Lies in a Small Town by Diane Chamberlain
St. Martin's Press | List Price: $27.99.
 A Winter 2020 Okra Pick
---
Fiction Addiction, Greenville, SC
Big Lies in a Small Town is the story of the artist Anna Dale in Edenton, NC in 1940. It is also the story of the artist Morgan Christopher in Edenton, NC in 2018. Each story is a fascinating look at a small Southern town including the social mores that prevailed. Each story is a fascinating character study of women who have faced tragedy and hardship and how they overcame it. Each story is a story of love and friendship. Each story could have stood on its own but they are woven together brilliantly to produce a novel that will make you just as curious as Morgan was to find out what happened to Anna and why in the world did she paint such gory things into a mural that was supposed to be hung in the town post office as a representation of the town of Edenton. If you love great Southern fiction, if you love a mystery, if you love rich characters, and if you love history and art you will not want to miss this fabulous novel.
---
Fountain Bookstore, Richmond, VA
This caught my eye because it's my usual fave (twisty mystery!) and it's set in Edenton, NC--a tiny coastal town where my in-laws happen to live. I love the town so I knew I'd love a book set there and I was right. This story stands on its own even despite the family connection and I was taken by it from the start. Morgan is released from a prison sentence under the condition that she restores an old mural from the 40s that has been badly damaged. She has no background in art restoration and is surprised to find out that she was chosen by a late artist she had admired but never met, and his conditions were strict so she has no choice but to accept. Anna, the original artist on the mural, tells her half of the story in flashback alternating chapters. We learn that she was chosen to paint the mural over some local artists and she has to deal with that fallout once she arrives in town to start work. She takes on some students to assist and becomes close with one in particular. Anna's story takes us down a dark path of racism and violence in the small town and as Morgan works on the mural, Anna's secrets unfold in a twisted, sad tale. The characters in the book leap off the page and weave a tale of family, friendship, death, and despair that will keep you glued to the pages until the final secret is revealed.
---
Page 158 Books, Wake Forest, NC
Diane brings to life two strong women in different times struggling against the constraints they have imposed on themselves. Morgan Christopher takes the fall for a crime she did not commit, and is serving a three-year stint in a North Carolina prison. Desperate to leave prison she agrees to restore a mural in a small town, shrouded in secrets. What she finds under the layers of years of dirt and neglect is a painting that tells the story of madness, violence, a conspiracy and maybe clues to a 1940s disappearance of the original mural painter. Diane writes with such a keen eye to detail and this book will take you for a ride while making you understand the why of someone's mistakes.
---
Sunrise Books, High Point, NC
Switching between 1940 and 2018 in the small town of Edenton, NC, this story slowly unfolds to reveal the slow decline (into insanity?) of artist, Anna Dale, (1940). Anna was from New Jersey, and some folks felt she had no place painting a mural depicting their small Southern town; especially when they had a talented local artist! Anna bucks against the social racism of the day when she "hires" a young African-American teen to help in her work, and runs afoul of the "movers and shakers."
Morgan Christoper, just released from prison (2018), is given the job of restoring the mural that Anna painted decades ago. Chosen for the job even though she has NO experience in art restoration, and there is a nearly impossible deadline imposed on the completion of the restorative process. Seems a set-up for failure, but failure is not an option for many reasons. Diane Chamberlain delivers another superb novel for her loyal followers!
This book is so much fun! Artist Lilian Quick's world begins to change when a long lost cousin visits her town on a speaking tour. Her cousin, now known only as Eleven, is the face of a very successful health, spiritual and lifestyle online community with high priced and lucrative courses in real life. Lilian becomes engaged with the community and readers fall in love with her! A beach read for the winter time, this is a fun book. 
Radiant Shimmering Light by Sarah Selecky ($27.00*, Bloomsbury Publishing), recommended by The Country Bookshop, Southern Pines, NC.
Laurie has been with her partner for 18 years. He's been her first and only and she's still just as much in love with him now. So she's shocked one evening when he gets home and he tells her that he doesn't want to have kids and he feels trapped. He wants to break up. Laurie is heartbroken and since they work together, she has to see him all the time. It gets worse when he immediately starts dating someone else. And then his new girlfriend is pregnant. Laurie is destroyed, but when she gets trapped in an elevator with Jaime, the office Lothario. They soon concoct a fake romance. She makes her ex jealous and he shows he's more serious to his bosses so he can hopefully snag a promotion. This is a fun romance. Laurie and Jaime are hilarious and fun together. This my first read from this author, but I hope to read many more now!
If I Never Met You by Mhairi McFarlane (List price: $15.99, William Morrow & Company), recommended by Bookmiser, Roswell, GA.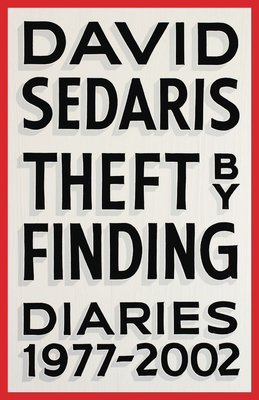 Theft by Finding has all David's humorous and insightful hallmarks and is, at the same time, very different from his previous books, with more sadness and seriousness, at least for the beginning entries. If you grew up in Raleigh you will have a lot of aha! moments being reminded of what a different place it was in 1977. It's really interesting to watch David evolve from the guy with lots of anxiety, no money, and a few addictions, to the celebrated writer he is today, with anxiety intact, of course. The real stars of the book are David's family, who come through as an eccentric bunch, but also a very close and loving one who enjoy one another.
Theft by Finding: Diaries (1977-2002) by David Sedaris ($28.00, Little Brown), recommended by Quail Ridge Books, Raleigh, NC.