Read This Now: The Index
What if there were an army of indie booksellers enthusiastically reading and reviewing practically every new book coming out in the next year, and what if the books they were the most excited about, the books they couldn't wait to push into their customers' hands with a breathless "You've GOT to read this!" (virtually or otherwise), the ones with all the nine- and ten-star ratings were carefully curated and collected in a handy list? Well, all we can say is...KEEP READING!
---
Surprise Me!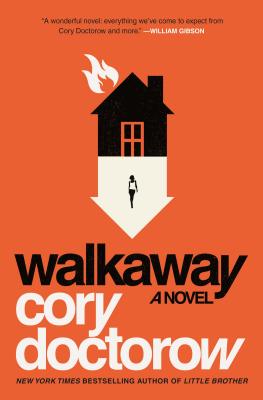 Cory Doctorow's Walkaway is a return to the deep-thinking, insightful, and yet very amusing science fiction of yore. We follow a group of Walkaways (individuals who have left typical society) as they experience and immerse themselves in a counter-culture that should be easy to maintain in a world of surplus. It isn't, of course--especially with differing opinions on what this counter-culture should do and what they could represent. Prepare to laugh and think with a story that is just on the other side of tomorrow.
Walkaway by Cory Doctorow ($26.99, Tor Books), recommended by Banshion, Flyleaf Books, Chapel Hill, NC.
Is Friday Night Lights meets Ottessa Moshfegh a thing? Because this collection is kind of like that: unafraid of being dark or weird or gross, and set within the wandering, vacant emptiness of Texas, or anyplace far enough away for you to feel like there's no one else around. These are my favorite kinds of stories, with sharp, surprising sentences and characters full of wanting and loneliness, resourcefulness and humor.
Black Light by Kimberly King Parsons ($15.00*, Vintage), recommended by Avid Bookshop, Athens, GA.
The Williams sisters get their due in this spot-on biography by the husband and wife author/illustrator team. Venus and Serena's power, grace and competitive spirit come shining through in the words, and the vibrant illustrations—check out the two-page spread of the Williams family cleaning the tennis courts as the sun rises with the pinks and oranges simply popping off the page!—are the perfect accompaniment to this story of two of the most dominant athletes of our time. 
Game Changers by Lesa Cline-Ransome, James Ransome ($17.99*, Simon & Schuster/Paula Wiseman Books), recommended by Flyleaf Books, Chapel Hill, NC.
Ian the Goldfish - narrator of this unique novel - is about to take a plunge from his watery prison on the 27th floor balcony of an apartment complex.
The Seville on Roxy houses a cross section of humanity that includes a pregnant lady on bed rest fantasizing about ice cream sandwiches, a home-schooled boy who thinks he's a time traveler and a shut in with a penchant for quiche and dirty talk.
If you loved Garth Stein's Art of Racing in the Rain you will fall in love with Ian. He's able to move unobtrusively through his neighbor's apartments telling their stories and ultimately helping them take risks beyond their wildest dreams.
Do not be fooled by the cover (looks a little like a kids' book) or my inability to express how a goldfish can tell a GREAT story. TWO FINS WAY UP!
Fishbowl by Bradley Somer (St. Martin's Press) Recommended by Stefani at Inkwood Books Tampa FL
A family vacation in the Rocky Mountains turns tragic when a young girl goes missing.
Her younger brother is the only one who remembers what happened and is overcome by guilt and denial. The parent's relationship disintegrates while their young daughter's whereabouts remain a mystery.
You will not be able to put this one down.
Every character is significant to the plot development. There is nothing rushed or gimmicky about this literary thriller. It is a page turner, but only because you want to see how each character is living despite a set of terrible circumstances.
Easily the best book I've read in 5 years. Descent by Tim Johnston (Algonquin) Recommended by Stefani at Inkwood Books Tampa FL