Surprise Me!
Bhuvaneswar's short stories beautifully share the lives of sixteen different women. White Dancing Elephants explores issues of immigration, religion, and feminism, but what it does best it let you peer inside each woman's soul. This is a brilliant debut. 
White Dancing Elephants by Chaya Bhuvaneswar (16.95*, Dzanc Books), recommended by Avid Bookshop, Athens, GA.
A beautifully written, complex story of war, love, intrigue and shifting loyalties in occupied Italy towards the end of WW II. This novel pairs very nicely with All The Light We Cannot See, again showing the complexities of everyday life-- not the least of which include being young and passionate about life -- while living in occupied territory.
The Girl from Venice by Martin Cruz Smith (Simon & Schuster, $27.00), recommended by Jamie at Flyleaf Books, Chapel Hill, NC.
Amidst all the noise and anger in society, Krista Tippett offers a refuge, an oasis where we can learn the value of listening, and learn to respect and appreciate people and the world around us. In her latest book, she offers a message of hope. The Peabody Award-winning radio host of On Being, Krista is a master of what she terms "generous listening," with a strong curiosity, and a "willingness to be surprised, to let go of assumptions and take in ambiguity." What better model could we ask for? 
Becoming Wise: An Inquiry into the Mystery and Art of Living (Penguin $28), recommended by René at Quail Ridge Books, Raleigh, NC.
Quail Ridge Books is hosting Krista Tippett at the UU Fellowship of Raleigh for the paperback release of the book on Friday, March 3.
Great for readers of Mary Kubica and Paula Hawkins! Alice O'Farrell lives a quiet, nomadic life after an accident killed her younger brother when she was left in charge. Unable to let go of the guilt she feels, she keeps to herself and works one-off jobs that don't require much from her. Waking up in a bad situation one morning, Alice finds herself in possession of a duffel bag full of cash and hits the road, hoping to outrun her guilt (and maybe a couple of bad guys too). Drama runs high as Alice and a runaway she encounters along the way work to outwit the owners of the duffel bag. You'll be breathless as you get to the fiery conclusion.
The Guilt We Carry by Samuel W. Gailey ($26.95*, Oceanview Publishing), recommended by Fountain Books, Richmond, VA.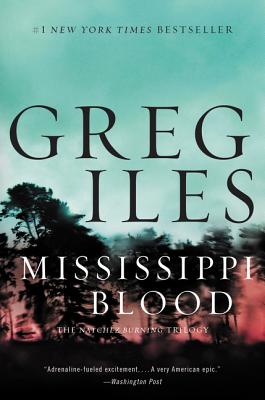 Andrew at Lemuria Books reviews Mississippi Blood, the final, riveting chapter in Greg Iles's Natchez Burning trilogy. (The second volume, The Bone Tree, was a 2016 Southern Book Prize winner). The whole trilogy is set in the Natchez, Mississippi, and centers on long-running Iles protagonist Penn Cage, who also appeared in The Quiet Game in 1999. The trilogy also features appearances from characters in the previously stand-alone and unrelated thriller Dead Sleep from 2001.
"I personally first encountered the character of Penn Cage about four years ago on the pages of his second novel, Turning Angel. Penn became the latest in my personal parade of literary types that I treasure: the non-professional private eye," writes Andrew, about characters intertwined inseparably from their setting: "And that's the thing about these characters: they inevitably become inseparable from their settings. Penn lives and breathes Natchez like its sins and successes are wholly his burden to bear."
Read more about Mississippi Blood at Lemuria Book's blog.
Mississippi Blood by Greg Iles ($28.99, William Morrow & Company), recommended by Andrew, Lemuria Books, Jackson, MS.