Surprise Me!
The middle-grade fiction genre is really taking off! I picked up this book to give to a friend and ended up devouring it in a few hours, so now I'm even more excited to give it to her. The poetic structure was brilliant and moving; I think this is a great introduction for kids to poetry and narrative poetry in particular. The story itself was beautiful and heartbreaking all at once, and I will admit I cried quite a few times! Getting to know Jude was such an honor and a pleasure, and Warga did a beautiful job of making her come to life.
In our current political atmosphere, and in the wake of the terror attack on the New Zealand mosques, this story is even more important than ever. I hope it will encourage kids to learn more about their Middle Eastern and Muslim brothers and sisters, and that they will begin to foster an awareness of the world outside America. It certainly had that effect on me. I don't give tens freely, but this touching story deserves every point!
Other Words for Home by Jasmine Warga ($16.99*, Balzer + Bray), recommended by Story on the Square, McDonough, GA.
Luna has lived her life in darkness. When she was born, a perpetual eclipse started.
In the ensuing chaos, Luna's parents, the king and queen of Relhok, were murdered, and Luna was secreted away to a hidden tower, allowing everyone to believe her dead. But now Luna wants more than life in her tower, and her chance comes when Fowler shows up just before an attack on the tower. Now Luna and Fowler are on the run together and must learn to rely on each other in ways neither of them has needed or wanted to before, fighting the monsters born of the darkness and the humans who would tear them apart.
But they both have secrets that could tear their blossoming love apart.
The start of a new YA fantasy series with plenty of romance and surprises to keep you turning the pages.
Reign of Shadows by Sophie Jordan (Harper Teen)  Recommended by Melissa at Fiction Addiction Greenville SC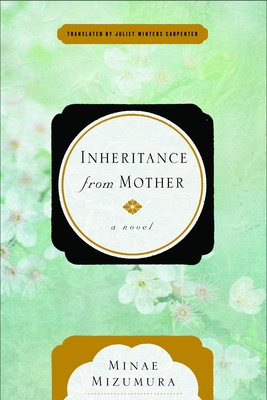 I just finished reading an amazing new novel in translation: Inheritance from Mother by Minae Mizumura (translated by Juliet Winters Carpenter). It's a long novel that was published over a two-year period in a Japanese magazine, as a homage to earlier Japanese serial novels. It follows a middle-aged woman named Mitsuki and her attempts to rearrange her life upon her realization that her husband is cheating on her, that her mother will soon be dying and leaving she and her sister a sizable inheritance, and her constant ruminations on money and the ways she will fill her time and economize her savings until she, too, dies. If that all sounds morbid and dark, it is, but there is also a subtle humor at work during the novel, with both sisters talking about how they'll celebrate when their mother finally dies--their relationship to her is fraught, to say the least--and the many flashbacks into the past add a lot of depth to the characters and the family history overall, leaving me with the feeling of really knowing these characters and of feeling sad to have to leave them by the end of the novel. Luckily, it's relatively long, and Mizumura's writing style is simple but elegant, not forcing you to get too bogged down in deciphering the beauty of each sentence, and really letting you enjoy the characters and the plot.
Inheritance from Mother by Minae Mizumura, translated by Julia Winters Carpenter ($27.95, Other Press), recommended by Jacob, Malaprops Bookstore/Café, Asheville, NC.
For the last 6 years, Adam has been confined to a wheelchair.
With the help of virtual reality technology that Adam's father has developed, Adam gets to be the hero. Adam's father has also been working of AI technology and after a very dangerous AI escapes into the internet, Adam has a very difficult decision to make.
Adam only has a little while left to live, but a new technology will allow Adam to have his entire consciousness converted into a computer program. Will Adam go through with the procedure and get to be the hero for real?
The Six by Mark Alpert (Sourcebooks Inc) Recommended by Jordan at Fiction Addiction Greenville SC
Masterfully combining otherworldly magic and mystery with ordinary awkwardness and unease, Andreasen tells us stories of fathers and sons, husbands and wives, sea beasts and lovers as if they were our own fantastic lives.
The Sea Beast Takes a Lover by Michael Andreasen ($25.00*, Dutton Books), recommended by Avid Bookshop, Athens, GA.