Surprise Me!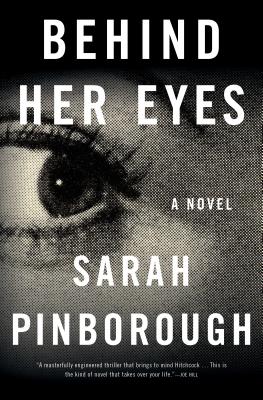 Behind Her Eyes took me totally by surprise. From the beginning I knew it was the story of a very disturbed person, but which one was the sick one? I knew something happened in the past that was driving two of the main characters, and I thought I was discovering the truth about the past - but, boy, was I wrong. A very dark and eerie psychological thriller of love and obsession that you will not be able to put down until you discover the truth.
Behind Her Eyes by Sarah Pinborough ($25.99, Flatiron Books), recommended by Nancy, Fiction Addiction, Greenville, SC.
In the hands of such a great writer (and fellow musician) the story of The Godfather of Soul becomes not just a portrayal of one of the most important figures in musical history but in American history.
A book that will make you crave that unmistakable James Brown sound.

Kill 'Em and Leave: Searching for James Brown and the American Soul by James McBride (Spiegel & Grau) Recommended by Frank at A Cappella Books Atlanta GA
A beautiful novel of a special relationship between a Jewish woman and Japanese man that continues for years.
Allende's brilliant prose brings the novel to life and expertly describes a relationship that is at times scandalous and forbidden but always enduring.
The surprises at the end help make it a novel well-worth reading.
The Japanese Lover by Isabel Allende (Atria Books) Recommended by Linda at Fiction Addiction Greenville SC
You read spellbound as young JFK swims miles behind enemy lines in shark infested waters with the life jacket strap of his oldest and most injured crew member clinched in his teeth, leading his sailors to safety on a deserted island. 
He goes back out alone in the black sea, treading water for hours hoping to flag down a passing American ship.  JFK was only 25 years old, on his own, having volunteered for combat.  Years later he kept a glass paperweight on his desk in the oval office that contained the coconut that he had carved a message in and sent to his base alerting his commander to his crew's location.
Fabulous history!
PT 109: An American Epic of War, Survival, and the Destiny of John F. Kennedy by William Doyle (William Morrow & Company) Recommended by Helen at Quail Ridge Books Raleigh NC
This collection of four books contains nearly 200 short stories. Some might be a casual three or four pages long, some might be one or two sentences, but they're all amazing. Lydia Davis writes like no one else: her stories are weird, funny, deep, and beautiful, starting and ending in the span of a couple minutes.
The Collected Stories of Lydia Davis ($23, Picador USA), recommended by Jacob, Malaprops Books, Asheville, NC.